What is Sugoi dekai? What does Sugoi Dekai mean?
---
Sugoi dekai means amazingly good or amazingly huge. But why is it famous and where does it come from? To understand that, we need to shower some light upon the background of sugoi dekai – what is the origin, and why is it famous?
Actually, it is present on the shirt of the character "Uzaki Hana" from the anime series Uzaki Chan Wants to Hang Out! Uzaki Hana is a character with a large breast and she wears the shirt with the phrase Sugoi Dekai and later it became a meme.
Hana Uzaki-chan wants to Hang out!
Hana Uzaki-chan wants to Hang out! (Japanese: 宇崎ちゃんは遊びたい!) is a Japanese manga series that was written and illustrated by Taking. The show has been turned into episodes and a series of digital media by Niconico Seiga's website named Dra Dra Sharp since December 2017. The anime series, in North America, has been approved and licensed by Seven Seas Entertainment; and has started airing the anime series on September 17, 2020. A second season is also announced.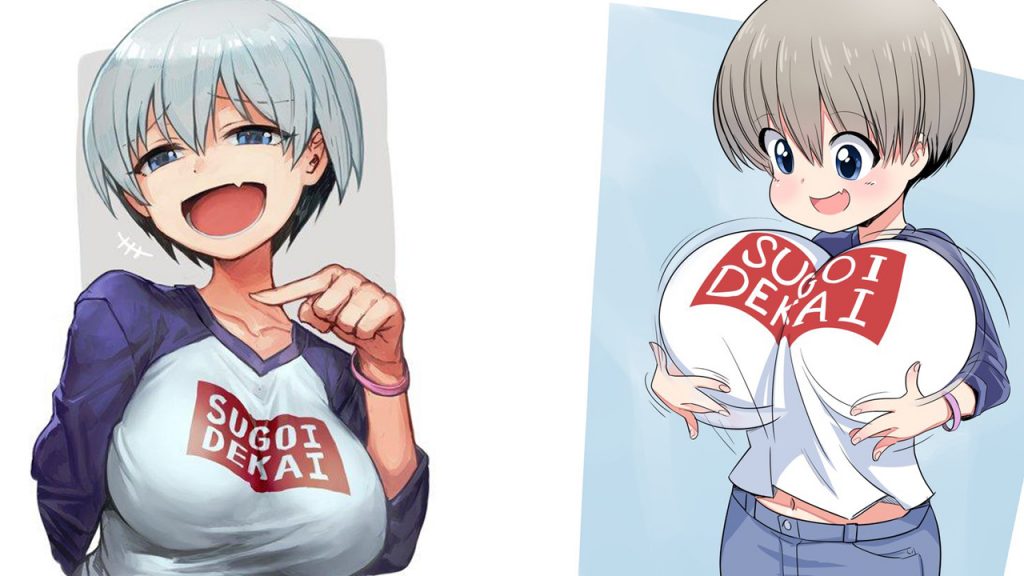 The anime series was published after a production process under the supervision of director Kazuya Miura; Manabu Kurihara who designed the character appearances, and Satoshi Igarashi who composed the theme music.
While season 2 is yet to be released, the anime has gained enough hype with the release of its first season. Season 1 consisted of 12 episodes in which the story starts with a teenage girl character named Hana Uzaki, who is overwhelmed to join high school. Hana comes across a character named Shinichi, who she takes as an introverted, interested individual. She starts to hang out with him; goes to the theatres to watch movies, eats from his plate at a random restaurant, and embarrasses him as she gets a chance. 
---
Episodes affiliated with the first season are:
"Uzaki-chan Wants to Hang Out!" (Japanese: 宇崎ちゃんは遊びたい!)
"The Café Owner Wants a Glimpse!" (Japanese: マスターは垣間見たい!)
"The Asai Family Wants to Look Out for Us!" (Japanese: 亜細親子は見守りたい!)
"I Want to Hang Out Together Over the Holiday!" (Japanese: 連休は一緒に遊びたい!)
"I Want to Meddle in My Friend's Business!" (Japanese: 親友におせっかいしたい!)
"Summer! The Beach! I Want to Test My Courage!" (Japanese: 夏だ!海だ!きもだめしたい!)
"I Want to Hang Out at a Cat Café and a Pub!" (Japanese: 猫カフェと居酒屋で遊びたい!)
"I Want to Watch Fireworks Together!" (Japanese: 二人で花火を見上げたい!)
"Tsuki Uzaki Wants a Thrill?" (Japanese: 宇崎月はときめきたい?)
"I Want to Hang Out in Tottori!" (Japanese: 鳥取で遊びたい!)
"Does Sakurai Want to Hang Out Too?" (Japanese: 桜井も遊びたい?)
"Uzaki-chan Wants to Hang Out More!" (Japanese: 宇崎ちゃんはもっと遊びたい!)
---
About Hana Uzaki
Hana Uzaki, just like every teen, is excited to enroll in High-School; where she falls under an upperclassman's obsession – Shinichi Sakurai. She thinks Sakurai is introverted and decides to spend as much of her time with him as possible. She follows Shinichi as he is her prey.
Appearance
A 150 centimeters tall teenage girl named Haza Uzaki is portrayed as the main character; a breast size of 96 centimeters, with J cups in JP. "Sugoi Dekai" is written on Hana Uzaki's long-sleeve shirt, on the chest – that can be translated to "super big". The outfit also includes a light blue skirt, pantyhose, and a walnut brown boot.
Perks of Hana Uzaki
The shy, introverted, and conserved Hana Uzaki is a high-school student. She is very unconfident around people and mostly embarrasses herself in every situation.
Above that, Hana Uzaki is energetic, enthusiastic, and cheerful when she is around her senpai Shinichi. Her sarcastic and teasing personality traits appear as she enrolls into the High-school.
Trivia
She does not like referring tastes of Choco-Mint or Mint chocolate ice cream to the taste of toothpaste. She appears to get frustrated and angry over the metaphor. Hana has a craving for a choc-mint taste.
Hana Uzaki is scared to watch horror movies; intending the irony that Hana is able to withstand scary things.
What does Sugoi Dekai Meaning?
Sugoi is used as an adjective for a lot of varying meanings, including vast, immense, extremely big, terrible.
Dekai is also an adjective that means gargantuan, enormous, massive.
Collectively, Sugoi dekai means really big, extraordinary enormous, amazingly huge, etc. 
Why "Sugoi deaki" has gained meme attention?
Referring to the character Hana Uzaki, and her big breasts, with Sugoi dekai written on her shirt over the chest area; it can easily be idealized how it would have spiked the attention spark in teenagers.
Sugoi dekai has since caught the attention of members and designers to implement it in any risqué manner, including imprinting it on real shirts, using it in meme templates, etc. You can further explore in detail Sugoi Dekai Meaning.
---
Frequently Asked Questions (FAQs):
Is it okay to use the work "Sugoi dekai"?

Sure, it is totally okay to use the word as it holds no hurtful meanings, but you should be wise where you use it in your statement. Because, anything can hold a risqué meaning, just like Hana Uzaki's breast.
Is there any exemplary sentence that could make sense of the expression "sugoi dekai"?

Here are some examples you can relate to:
-Iguazu Falls are amazing! And huge! Amazingly huge!!
–Something humongous arrived!
–I've got a big piece of earwax in my ear.
Here sugoi dekai is translated to "Amazingly huge, humongous, big piece.
In what sense is sugoi dekai used?

Sugoi dekai is often used to exaggerate an idea of enormous and something huge. Like in the above exemplary context.
---