Upcoming Netflix Series in February 2021
---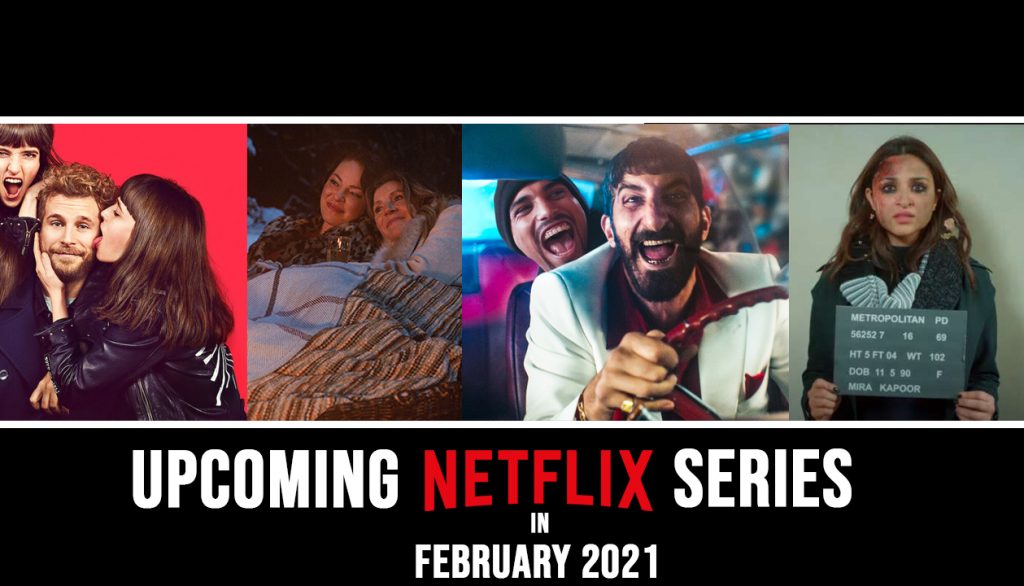 We pull up the list of Upcoming Netflix Series in February 2021. Indeed, it actually winters, we're really enduring an overall pandemic—which implies it's a higher priority than at any other time to value the little things that give us satisfaction. Nothing fits that bill in a manner that is superior to Netflix's for the most part best in the class record of movies and TV shows.
Well, February is the shortest month of the year but that doesn't make difference for Netflix, because Netflix is going to release plenty of new Netflix Series throughout February.
---
Upcoming

Netflix

Series in February 2021
Firefly Lane (Season 1)
Release Date: 3rd February
The series Firefly Lane follows best friends Tully and Kate who support each other through good times and bad with an unbreakable bond that carries them from their teens to their 40s.
---
Malcolm & Marie
Release Date: 5th February
Malcolm & Marie is an upcoming American black-and-white romantic drama film written and directed by Sam Levinson. The film stars John David Washington and Zendaya (who both also produced) as the title characters, a director and his girlfriend, whose relationship is tested on the night of his latest film's premiere.
---
All My Friends Are Dead
Release Date: 3rd February
It's a Polish thriller movie. A group of friends at a New Year's Eve party go through a whirlwind of events that exposes secrets, breaks hearts — and leads to a shocking outcome.
---
Strip Down, Rise Up
Release Date: 5th February
In an effort to reclaim their bodies and lives, a group of women explores the intersections of movement and meaning in a powerful pole dancing program.
---
Hache Season 2
Release Date: 5th February
Hache is one of the best and highly underrated Spanish dramas on Netflix and returns for season 2 in early February.
For those not familiar, the series is set back in the 1960s when the drug trade is roaring in Barcelona. Eight new episodes drop on the fifth and continue Helena's story.
---
Space Sweepers
Release Date: 5th February
Space Sweepers is an upcoming South Korean space opera film directed by Jo Sung-hee, starring Song Joong-ki, Kim Tae-Ri, Jin Seon-kyu, and Yoo Hae-jin. Regarded as the first Korean space blockbuster.
Chasing after space debris and faraway dreams in the year 2092, four misfits unearth explosive secrets during the attempted trade of a wide-eyed humanoid.
---
Invisible City
Release Date: 5th February
It's a Portuguese language TV show. After a family tragedy, a man discovers mythical creatures living among humans — and soon realizes they hold the key to his mysterious past.
---
The Yin Yang Master: Dream of Eternity
Release Date: 5th February
When a demonic serpent reawakens, the Yin-Yang Masters must solve a murder mystery and protect their realms from a dark conspiracy at the royal court.
---
News of the World
Release Date: 10th February
A Civil War veteran who travels from town to town reading the news undertakes a perilous journey across Texas to deliver an orphaned girl to a new home.
---
The Misadventures of Hedi and Cokeman
Release Date: 10th February
In Paris, two dysfunctional dealers use family ties to try to boost their small drug business in this crass comedy based on the web series.
---
Red Dot
Release Date: 11th February
Red Dot serves as Netflix's first full feature film from Sweden.
Trying to rekindle their marriage and with a child on the way, a young couple on a ski trip suddenly finds themselves stalked by remorseless killers.
---
To All The Boys: Always And Forever
Release Date: 12th February
To All the Boys: Always and Forever is an upcoming American teen romantic comedy film directed by Michael Fimognari and starring Lana Condor and Noah Centineo.
Senior year of high school takes center stage as Lara Jean returns from a family trip to Korea and considers her college plans — with and without Peter.
---
The Crew
Release Date: 15th February
Life in the garage swerves off track for a NASCAR crew chief and his tight-knit racing team when a new boss steps in and shakes things up.
---
Animals on the Loose: A You vs. Wild Movie
Release Date: 15th February
When wild animals escape from a sanctuary, Bear Grylls — and you — must pursue them and secure their protective habitat. An interactive special.
---
Behind Her Eyes
Release Date: 17th February 2021
Behind Her Eyes is a psychological thriller television limited series created by Steve Lightfoot, based on the 2017 novel of the same name by Sarah Pinborough, that is all set to premiere on Netflix on 17 Feb 2021. The series stars Simona Brown, Eve Hewson, Tom Bateman and Robert Aramayo.
A single mother enters a world of twisted mind games when she begins an affair with her psychiatrist boss while secretly befriending his mysterious wife.
---
Tribes of Europa
Release Date: 19th February
In 2074, three siblings set out to change the fate of Europe after a global catastrophe fractures it into countless microstates fighting for dominance
---
I Care a Lot
Release Date: 19th February
A court-appointed legal guardian defrauds her older clients and traps them under her care. But her latest mark comes with some unexpected baggage.
---
Pele
Release Date: 23rd February
Mixing rare archival footage and exclusive interviews, this documentary celebrates the soccer legend who personified the beautiful game: Pelé.
---
Hate by Dani Rovira
Release Date: 12 February
From his hometown of Málaga, Dani Rovira reflects on human beings' nonsensical hatred in this hilarious and unfiltered comedy special.
---
Crazy About Her
Release Date: 26th February
After spending a wild night together, Adri discovers the only way to see Carla again is to become a patient at the psychiatric center where she resides.
---
The Girl On the Train
Release Date: 26th February
The Girl on the Train is an upcoming Indian Hindi-language mystery thriller film directed by Ribhu Dasgupta and produced under the banner of Reliance Entertainment. The film is based on British author Paula Hawkins' 2015 novel of the same name and stars Parineeti Chopra as an alcoholic divorcee who gets embroiled in a missing person's investigation. It co-stars Aditi Rao Hydari, Kirti Kulhari and introduces British star, Sammy Jonas Heaney.
So, these are the Upcoming Netflix Series, TV Shows & Movies are. Let us know what you're going to watch in February. Tell us in comments below!
---
Follow us on Facebook, Pinterest and other social media handles.